RYA Sailing courses in the year round sunshine of the Canary Islands!
RYA Sailing Courses – Learn to sail holidays with Sail the Canaries
At Sail the Canaries we aim to deliver the best quality tuition in a fun, friendly and safe environment.
Our sailing courses are run on a friendly yet professional basis with experienced instructors who will make your sailing lessons both fun and memorable. We are the only school in the Canary Islands with a MAXIMUM student to instructor ratio of 4:1. We also run 6 day RYA courses instead of the usual 5 and students have a private cabin. Great discounts are available for exclusive use sailing courses.
Learn to sail with us from our base in Corralejo on the north of Fuerteventura. Our cruising grounds are between the numerous ports and anchorages on Fuerteventura and Lanzarote. It has ideal sailing conditions with good steady winds, lots of places to visit that are close by as well as all year round sunshine!
Fuerteventura is famous for it's great winds and incredible beaches. It is Europe's home of wind and kite surfing and has a lovely laid back and friendly feel to it and is an amazing place to start your sailing holiday.
Sail The Canaries is a recognised Royal Yachting Association (RYA) Training Centre. We offer the following RYA Practical Courses : Competent Crew (beginners sailing course), Day Skipper, Coastal skipper and Cruising Instructor. Shorebased Courses: "Must Have" Day Skipper Theory, Day Skipper Theory, Coastal Skipper / Yachtmaster Offshore Theory, RYA Online Theory Courses, Short Range Certificate (SRC/ VHF radio).
Meet the team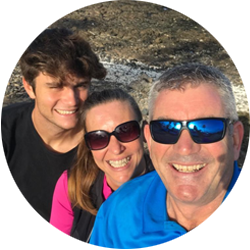 Sail the Canaries is a small, family business run by Clive & Alex Moreham and together with our son Ben, we run our school out of Corralejo in Fuerteventura.
Read more