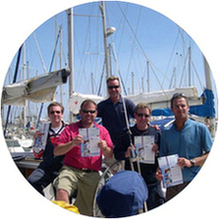 The RYA Day Skipper Course is for sailors with some experience who want to learn the basics of how to skipper a yacht safely.
We are the only school in the Canary Islands with a MAXIMUM student to instructor ratio of 4:1. We also run 6 day RYA courses instead of the usual 5 and students get a private cabin.
The Day Skipper course is for aspiring skippers who have some yachting experience and basic understanding of navigation. This course concentrates on the two most difficult aspects of skippering a yacht for the beginner: pilotage and boat handling.
Each trainee skipper will be asked to skipper the yacht on a short passage. Your instructor will be on hand to give advice and encouragement and to ensure that your destination is reached safely. The essential element is that you experience being in charge and take the credit when all goes well, but also have responsibility when it doesn`t. The end of each day is usually spent around the chart table discussing the passages and gaining from each other`s experience.
Day Skipper Practical is the normal follow on Practical course from Competent Crew, however some theory knowledge must be gained prior to attempting this practical course. We run the full 5 day RYA Day Skipper Theory Course or a cut down "Must Have" Day Skipper Theory Course which is a 2 day course which we have designed to give you enough theory to be able to complete the Day Skipper practical course but you will NOT receive a theory certificate.
The course will cover, preparation for sea, deck work, navigation, pilotage, meteorology, rules of the road, maintenance and repair work, engines, victualing, emergency situations, yacht handling under power, yacht handling under sail, passage making and night cruising.
Suggested minimum pre-course experience
5 days, 100 miles, 4 night hours on board a sailing yacht.
Assumed Knowledge
Basic navigation & sailing ability. Ideally you will have attended the Day Skipper Theory Shorebased. The minimum age limit on this course is 16 years of age. At the end of the of the course, you should be able to skipper a small yacht in familiar waters by day.
This RYA Day Skipper Practical certificate is recognised around the world and is ideal for people looking to charter their own yacht in the future.
Day Skipper Practical Syllabus
The Day Skipper course teaches pilotage, navigation, seamanship and boat handling up to the required standard to skipper a small cruising yacht safely by day in tidal waters with which the student is familiar.
Preparation for sea
Is able to prepare a yacht for sea, including engine checks, selection of sails, securing and stowage of all gear on deck and below
Deck Work
Can reef, shake out reefs and change sails to suit prevailing conditions
Can prepare an anchor, mooring warps and take charge on deck when mooring alongside, coming to a buoy, anchoring, weighing anchor and slipping from a buoy or alongside berth
Navigation
Is proficient in chartwork and routine navigational duties on passage including:
Taking and plotting visual fixes
Use of electronic navigation equipment for position fixing
Use of waypoints
Working up to DR and EP
Estimating tidal heights and tidal streams
Working out course to steer to allow for tidal stream, leeway and drift
Knowledge of IALA buoyage
Maintenance of navigational records
Use of echo sounder and lead line
Pilotage
Can prepare and execute a pilotage plan for entry into, or departure from, harbour
Understands the use of leading and clearing lines
Use of transits and surroundings as aids to pilotage
Meteorology
Knows sources of forecast information
Can interpret shipping forecasts and use a barometer as a forecasting aid
Rules of the road
Has a working knowledge of the International Regulations for Preventing Collisions at Sea
Maintenance and Repair Work
Understands and is able to carry out maintenance tasks
Knows the properties and uses of common synthetic fibre ropes
Engines
Knows how to change fuel and water filters, pump impeller and to bleed the fuel system
Victualling
Understands how to victual a yacht
Emergencey Situations
Is able to take correct action as skipper for recovery of man overboard
Understands distress flares and how to use a liferaft
Can operate a radiotelephone in an emergency and send a distress message
Understands how to secure a tow
Understands rescue procedures including helicopter rescue
Yacht Handling Under Power
Can bring a boat safely to and from an alongside berth, mooring buoy and anchor under various conditions of wind and tide
Yacht Handling Under Sail
Understands the basic principles of sailing and can steer and trim sails on all points of sailing
Can steer a compass course, under sail and power
Passage Making
Can plan and make a coastal passage, taking account of relevant navigational hazards and limitations imposed by the type of boat and the strength of the crew
Night Cruising
Has experienced sail cruising at night.
General Duties
Has carried out general duties satisfactorily on deck and below decks in connection with the daily routine of the vessel